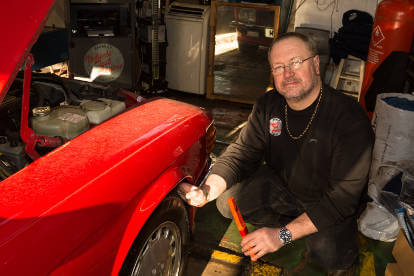 An MOT reminder: here's what it's about
Is it that time of the year again when your annual MOT reminder pops up on your calendar? If you haven't had to get an MOT for a while – for example if you bought a new car – or if this is your first time, then we are here to help explain what it's all about and what you need to do.
What is it and when do I need one?
MOT stands for Ministry of Transport, the government department that was responsible for the test. It is now managed by the Driver and Vehicle Standards Agency (DVSA), but the name has stuck.
An MOT is due on:
The anniversary of your previous one – i.e. within 12 months, OR
On the third anniversary of the date of first registration of your vehicle
You can get a MOT within a month of it being due.
What happens if I don't get one?
If you drive your vehicle without a valid MOT certificate you risk a fine of up to £1,000. The only time you can drive your vehicle without a valid certificate is if you are going to the MOT test centre.
What does the MOT test cover?
The MOT will test a number of things to ensure that your vehicle is roadworthy, safe, and is not polluting the environment. To that end, the following will be done:
The vehicle body will be checked for corrosion, sharp edges, and damage.
The fuel system will be inspected to ensure there are no leaks and that pipes and caps are secure and fasten tightly.
Exhaust emissions and the exhaust system itself will be checked to confirm they meet the criteria for the vehicle's age and fuel type and that the exhaust is securely fitted and all component parts – including any catalytic converters – are present and in good working order.
Seatbelts will be looked at; they must be in place and appropriate for the vehicle. They must also be secure and work well.
Indicator lights will be tested to ensure they work properly.
The condition of the brakes will be looked at as well as their performance and that of an anti-lock braking system (ABS).
Tyres and wheels will be inspected to check for compliance with minimum tread depth requirements. They will also need to be in good condition and fitted securely.
Mirrors, wipers, and lights will all need to be appropriate for the vehicle and secure. Lights will need to be clean, in good operational condition, and set at the right height. Wipers must work well and leave a clear view of the road for the driver. The windscreen must also be in good condition and give the driver a clear view.
Suspension and steering must be working properly and be without any inappropriate modifications which could lead to corrosion of the steering mechanism.
Battery and wiring will be inspected for corrosion and/or excessive wear and tear.
Registration plates must be visible, attached securely, be the right colour, and readable.
Whether this is your first MOT or you've lost count, our team at Bromley Vehicle Test Centre will apply the same rigour to ensure your vehicle is safe on the road for you and your loved ones. Simply give us a call on 020 8460 6666 and we'll get you booked in.