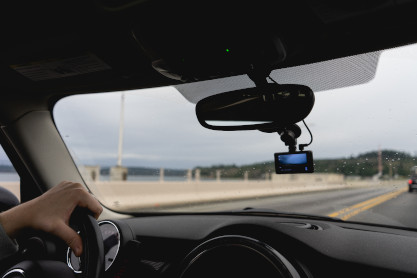 To many, the road can be a place which causes feelings of apprehension. Unfortunately, accidents can sometimes occur and in the heat of the moment it can be challenging to recall what really happened. Could a dash cam be the answer?
How do dash cams work?
Dash cams are small cameras that are plugged into a 12v power source and can be mounted to the front or rear windscreen of your vehicle. With the power it receives, one of these cameras can record every minute of your journey, filming reliable footage of the road ahead or behind and storing it on a micro SD card. Depending on your make and model, the dash cam should never run out of storage. Instead it will keep recording over the last stored footage – unless you lock the video to prevent it from being overwritten.
The advantages of a dash cam
Proof of fault
If you are ever involved in an accident, or if you are close enough to be a witness to one, your dash cam will provide you with readily available evidence. The majority of authorities within the UK accept clear dash cam footage as reliable evidence if and when this is required.
Reduced insurance premiums
Dash cams aren't just great for capturing reliable footage – they can also lower insurance premiums. Many insurance companies in the UK recognise the preventative features of a dash cam and provide a reduced insurance cost if have one installed in your vehicle.
Urge safer driving
With a dash cam recording every minute of your journey, you may find that you are naturally encouraged to drive safely. As well as this, you may also notice that those around you take caution whilst on the road too, preventing them from being recorded driving dangerously.
The disadvantages of a dash cam
Increased theft
With an electronic device of some value being on full display at the front or rear of your car, you could find that it becomes of interest to someone. Whilst rare, there has been the occasional theft of dash cams from vehicles, so you may wish to park your vehicle in a well lit or secure spot overnight.
Distraction whilst driving
Having a new gadget installed in your car can be enough to cause distraction on the road. Whether you are reassuring yourself that it is recording, taking a look at the flashing buttons on the camera, or observing the quality of the footage in real time, the distraction could lead to dangerous driving or an accident on the road. Be sure to complete any checks with your dash cam before you head out onto the roads.
A top tip about the placement of your dash cam
If you opt to have a dash cam installed in your vehicle, you will need to be careful about its placement. If installed incorrectly, you could be caught committing a serious traffic offence. The Road Vehicles Regulations and MOT guidelines must be followed when it comes to placement.
Have you been involved in an accident? At Bromley Vehicle Test Centre, we are on hand to provide your vehicle with the repair work it may need. Get in touch with our team today and we will be happy to advise and assist you and your vehicle. Give us a call on 020 8460 6666.