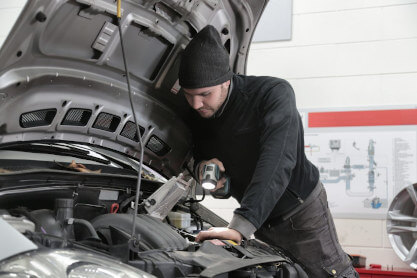 It is an unwritten rule to never buy a car without checking its service history. With this exercise causing confusion and needless hassle to many, we have produced a simple guide as to how to check for it. With the smallest amount of effort, you could find part of, if not all of, the information that you are after.
What is a service history?
When buying a car, the key thing that buyers ask for is a full service history. This will show how the car has performed over time, revealing when there have been oil changes, the vehicles mileage and whether any parts have been replaced.  A full service history comes down to being one of the most important aspects of a sale. Car manufacturers have recently transferred these onto their systems and with the new GDPR regulations in place, if you are interested in buying the car, the garage would need confirmation from the current owner that they allow this information to be visible to a third party. If you already own the vehicle, upon proof of ownership, the garage will retrieve the documents for you.
What does it look like?
If not logged onto the manufacturers system as stated above, then a full service history often comes in the form of a service book accompanied with various stamps, names, addresses and dates relating to the time and place that the service was carried out, along with receipts relevant to any necessary work that took place.
How do I locate the service history?
If the vehicle is already yours then it is likely that you will know where your car's services took place. If you don't have the physical service book or any invoices to hand, you can contact them, show some proof of ownership and they will hand the documents over.
It becomes tougher when the car is not yours and you are completely unaware of where the services are carried out. By contacting the vehicles manufacturer and using your Vehicle Identification Number (VIN), you can retrieve a range of missing information. Your VIN can be found in the left hand corner of the windscreen in most modern cars, with a few exceptions in vehicles such as Fiats, where it can be found on the left hand side of the boot floor pan and in Citroens, Toyotas and Peugeots where you can locate it beneath the driver's seat. The manufacturer should be able to put you in contact with the original dealer who could have further information which you require.
What if car has been serviced at more than one garage?
If the car has had multiple services carried out within different garages, it may require more effort, but it doesn't necessarily mean that the documents will be impossible to get your hands on. Lucky for you, the fact that most manufacturers store their information onto their computer systems may work in your favour, and it may be simpler to track down than ever before due to the majority of the vehicles information being consolidated. With the right numbers and contacts, you should find everything you need.
Should the worst happen and you are unable to locate the necessary information, you can speak to the DVLA who, after giving them the vehicles registration plate, can issue you with the cars MOT information as well as determine whether the car consists of any safety recalls which need repairing or replacement, or if it is stolen.
Do you need to book your car in for a service, or are you looking for advice on how to track down information which you require? Give our specialist team at Bromley Vehicle Test Centre a call on 020 8460 6666 where we will be more than happy to help you.