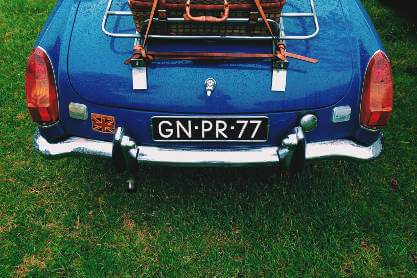 The holidays are in full swing, you are finally on annual leave, or even a long bank holiday weekend, and the weather is still holding (most days, anyway). Time for this year's staycation to finally get going, and what better way to explore the country or get to your B&B or campsite than with a road trip? Before you set off though, make sure that your vehicle is up to the journey and you are not going to find yourself broken down on the side of a country lane with tired and hungry little ones or hot pets.
Our road trip checklist
Here's what you need to do before you hit the road…
Tyre check. Make sure your tyre tread is legal and that you have enough air in your tyres. Give them a once-over, looking for any cracks or other signs of damage. Don't forget to check the spare too! The RAC can talk you through a quick refresher on how.
Check your levels. Fuel, radiator coolant, oil, and screenwash should all be looked at and topped up if necessary. Yes, you can find some on the road, but why create problems for yourself when you don't have to?
Battery. If your battery is older than three or four years, then it is worth replacing it. If you take lots of short journeys, either charge the battery before you set off or take a longer journey to give it a full charge. For older cars in particular, get your alternator checked too as any battery issues could have a knock-on effect on it, reducing its efficacy to charge your battery. With the number of gadgets that we plug in – mobile phones, tablets for the kids, and sat-nav systems, not to mention the air conditioning to combat the heat – the battery can drain much more quickly.
Lights. Do a quick check of all lights to ensure they are in good working order. Don't forget the indicators and fog lights – weather can be very localised and you never know what conditions you can find along the way, particularly early in the morning or in the evening.
Towing something? If you are planning to tow a trailer or caravan, check that you are not going over your vehicle's towing capacity and that all chains, couplings, and lights are in good working order.
Clutch. The clutch is possibly one of your vehicle's hardest working components. Stop-start traffic, hills and hill starts, and towing something heavy such as a caravan or trailer can wreak havoc on your clutch causing wear and tear. It's unlikely to fail suddenly, so a check before you head off will tell you whether it is fine or if it's time for a service.
For a full vehicle check before you head off on your road trip, just give us a call or come in and see us. Our Bromley Vehicle Test Centre team is skilled and experienced and we will make sure you are safe on the road, so all you have to worry about is enjoying your trip. If you want to make an appointment, just call us on 020 8460 6666.