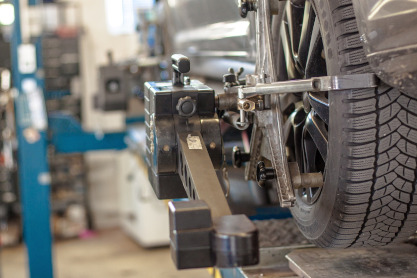 MOTs are something every driver is familiar with due to the regularity of the assessment. However, the topic is often associated with many-a-myth. This month, we're here to set the record straight. We answer your burning questions, including those we are most commonly asked, as well as de-bunking some MOT myths. Here is everything you need to know…
Q: What is an MOT?
A: An MOT (which stands for Ministry of Transport) is a legal assessment that your vehicle must undergo to determine that it is safe to drive on the roads and is not a risk to yourself, your passengers, or other road users.
Q: What is the difference between an MOT and a service?
A: There is always much confusion over the difference between an MOT and a service. An MOT is a legal assessment that is required to make sure that your vehicle meets with road safety and environmental standards defined by the DVSA. A service is not a legal requirement but is strongly recommended to be carried out annually. The purpose of the inspection is to keep your vehicle running smoothly. Similar checks to your MOT will be carried out, but in a greater depth.
Q: Do motorbikes require an MOT?
A: Motorbikes do require a valid MOT to be deemed safe for the road. Whilst we don't specifically carry these tests out, there are a handful of motorbike MOT specialist garages located nearby.
Q: Can I drive without an MOT?
A: No. You mustn't attempt to drive your vehicle without a valid MOT.
Q: What are the repercussions for not having a valid MOT?
A: Aside from the danger you could bring to yourself, your passengers and other road users, you could also be pulled over and receive a fine of £1,000 if caught driving without a valid MOT. If your car failed its MOT due to a 'dangerous' fault and you were caught driving, you could be faced with a fine of £2,500 as well as gaining 3 points on your driving licence.
Q: My MOT runs out today – can I still drive my car?
A: You can still drive your vehicle on the day of your MOT expiration, but you must not drive it the day after.
Q: My MOT has run out – how do I get it to the MOT garage?
A: As long as you can prove that you are heading to the MOT garage, you will be able to drive your vehicle for its assessment, even if your MOT has passed its expiration date.
Q: Can I get my MOT retest taken at a different garage?
A: Yes! Many drivers are often led to the impression that, if failed originally, the MOT retest must be taken at the same garage, but this is not true! You have the freedom to choose where you take your car for its MOT.
Q: How do I know when my MOT is due?
A: GOV.UK have a text or email reminder service which you can opt in to, but we would always recommend making a note for yourself somewhere too.
Q: How much does an MOT cost?
A: Depending on the garage you visit the cost of an MOT can vary. However, the government has set a maximum price limit on these assessments, and this currently stands at £54.85.
Q: How long to MOTs take?
A: MOTs shouldn't take too long at all! Many drivers think that they will occupy the entirety of their day, but they can in fact be completed in under an hour!
Q: My MOT hasn't expired yet, but can I book for my next test?
A: Depending on the garage you choose to have your MOT at, you may be able to book in advance. However, you will be unable to renew your MOT until at least 1 month before the expiration date of your current MOT.  
Q: How do I check my vehicles MOT history?
A: If you search your vehicle in GOV.UK's database, you should be able to see your past MOT details.
Q: Can I sell my car if it doesn't have a valid MOT?
A: You can. However, it is important to remember that the buyer will be unable to drive the car away. Instead, they will need to arrange for it to be collected until they have arranged for, and passed, the MOT successfully.
At Bromley Vehicle Test Centre, you can leave the MOT to us. As experts, we are on hand to answer any of your questions, and can guide your vehicle through the assessment seamlessly, providing any repair or replacement work if required. To get in touch with no obligation, call 020 8460 6666.