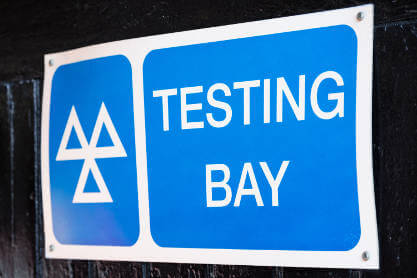 On the 20th of May 2018, new MOT rules were introduced that could affect your car. Broadly speaking, the main changes relate to new defect categories, stricter rules for diesel vehicles, and an exemption for vehicles that are over 40 years of age from requiring an MOT. Full details can be found on the gov.uk website, but we explore these in a little more detail this month to help you understand how you and your vehicle may be affected.
New defect categories
There are now three categories of defects in the MOT and your tester will class anything they find as one of the following:
Dangerous. This will lead to an MOT failure. You cannot drive the vehicle until this has been repaired as it can have an immediate and direct risk to safety or a serious environmental impact. You must repair this immediately.
Major. This will also lead to an MOT failure. Such a defect could put others using the road at risk, affect the safety of the vehicle, or have an impact on the environment. It must be repaired immediately.
Minor. This will not affect the vehicle's safety or significantly affect the environment and so will pass the MOT. It should, however, be repaired as soon as possible.
Advisories will still be raised where something is spotted that may become a more serious issue in the future and will therefore require monitoring.
Diesel vehicles
If your vehicle has a diesel particulate filter fitted, then the emissions from your vehicle will have to meet stricter criteria. A major fault will be noted if:
There is smoke coming from the exhaust – of any colour, or
There is evidence that the diesel particulate filter has been tampered with
Other changes
There are a number of other things that will now also be checked as part of the MOT test. They include:
Checking for fluid leaks that could lead to a risk to the environment
Checking for potential contamination of brake fluid
Checking tyre pressure, in particular to see whether tyres are underinflated
Inspecting brake pads and discs to ensure they are not missing and checking brake pad warning lights
Checking reverse warning lights on all vehicles that were used after September 1, 2009
Inspecting headlight washers, where they are fitted, on vehicles used after March 1, 2018
Checking daytime running lights on those vehicles used from March 1, 2018. In practice, will come into effect in 2021 after they are three years old and must pass an MOT for the first time
Other smaller changes may also apply to your vehicle and your MOT test centre can give you the full details when you next take your car in.
Vehicles older than 40 years of age
If your vehicle is over 40 years old, and has not been substantially changed, then it will no longer need to pass an MOT. The date will apply from the time vehicle was first registered. You no longer need to apply for this exemption but you will need to confirm that you comply with the criteria for exemption when it comes to taxing the vehicle.
Want to know more about the changes or need to book in for your next MOT? Come into the Bromley Vehicle Test Centre or get in touch by calling us on 020 8460 6666 to make an appointment.