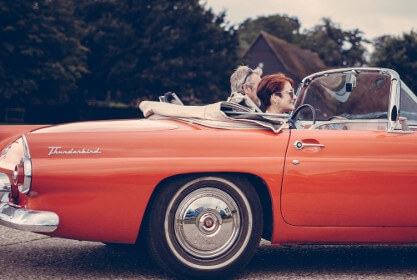 Many car owners are of the opinion that the cold winter months pose a bigger risk to a vehicle than the hot summer months. In actual fact they're both challenging to deal with, so preparing your car for the summer months is just as important. By following a few simple steps, you'll be able to keep your car running efficiently.
Before you head off on holiday or on a long car journey is a great time to give your vehicle a summer check. In fact, if you tie in a summer check with your annual MOT, you can make sure your car is in tip-top condition for the summer.
Key aspects of your summer vehicle check
Tyres – check the condition of your tyres. Look for wear and tear and check the pressure. Don't forget to inspect the spare too.
Windscreen washer – check that it is topped up.
Oil and coolant – make sure they are at the right levels according to your manufacturer's handbook.
Lights – check that they're all working, both interior and exterior. You may need a friend to help you with the exterior ones.
Windscreen wipers – inspect them for wear and tear or splitting.
These are all quick checks that you can perform yourself to cover all the basics and should regularly be undertaken as standard checks.
Visiting a garage for a summer check-up
You may consider getting a garage to cast an eye over your vehicle too. A garage is likely to check your brakes and brake pads to ensure there is no significant wear or cracking. Your brakes should be reviewed twice a year as standard, so a summer and winter check are ideal.
A garage will also check your fan belt and cooling system. In summer, a well-functioning cooling system is imperative, as one that is malfunctioning could cause overheating and lead to extensive damage to your engine which could be costly to repair.
Performing these checks will reduce the chances of a breakdown. It's always best to be pro-active. So if you're planning a long journey or the weather is extremely hot, these checks could help to make your summer plans run smoothly.
Increased breakdowns in hot weather
The RAC state that they receive a 20% increase in call-outs during hot weather. In coastal areas, the increase in call-outs experienced is 30%. This shows the effect that hot summer weather can have on your car.
In 2016 the most common reasons for breakdowns were:
Battery problems
Tyre issues
People getting a puncture and not having a spare
Clutch problems
Difficulties with the alternator
Having a qualified mechanic to review your car in summer will help to prevent your car suffering an unwelcome and unexpected breakdown.
Five tips to avoid summer breakdowns
Battery problems are caused by a lot of stop-start activity, so keep it to a minimum where possible. If your battery is old, consider replacing it.
Visually checking for tyre issues will help to identify any problems before and after a long journey. Check the pressure and make sure you have a spare that is in good condition too.
Clutch problems can arise through towing a caravan or driving in new, unfamiliar areas when you are using it more. Check that your vehicle has the capacity to tow a caravan before doing so.
Alternator issues generally arise due to battery problems, which are usually attributed to a mixture of hot weather and plugging in devices such as smartphones.
Whether you are travelling a short or long distance, it's always important to check the basics. It could save you time and money in the long run.
Book your summer vehicle check today
 If you need a reminder to complete your summer vehicle check, then why not schedule it with your annual MOT? With Bromley Vehicle Test Centre you can book your MOT online in minutes by clicking here.