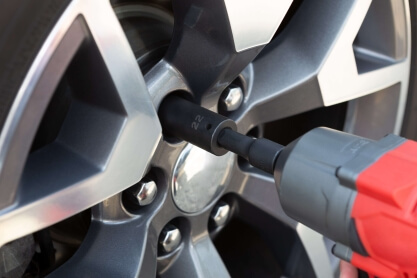 When it comes to our cars service, we can become so caught up in the function of the vehicle that we forget how to best prepare for ease during the assessment! Allow us to remind you of just how you should prepare your car on the day.
Wheel nuts
Many vehicle manufacturers secure alloys with locking nuts, preventing them from being targeted and stolen by thieves. However, these alloys will need to be removed during your service and so your mechanic will require the wheel nuts which accompany the car during purchase, allowing them to remove the alloys safely and inspect the condition of your suspension and steering systems without causing delay to the remainder of your service.
Service book
A full service requires dozens of checks across all aspects of your vehicle, and because of this, each car should be provided with a service book, allowing mechanics to check the time of repair or replacement for each component of your vehicle, from spark plugs and timing belts, to coolant and brake fluids. This book will need to remain in the vehicle – or be replaced if you have removed it since your last service – ensuring that your vehicle can be assessed correctly.
Clear your boot
As well as the fixed tyres, the condition of your spare tyre will also be assessed during your service. As this is located beneath the boot of your vehicle, you should remove any belongings, such as shopping bags and storage boxes, providing your mechanic with simple access to the hatch for your spare tyre and accompaniments.
Remove your PPE
The world is running in a new way nowadays, and the frequent requirement for masks has resulted in us owning handful that often get left in our vehicles. We kindly ask that, before your service or MOT, you remove any strays as general COVID-19 etiquette as this can pose as a heath and safety risk to those assessing the internal components of your vehicle.
Have you got a valid MOT?
A service and MOT are two different vehicle assessments and without a valid MOT and certificate, a service of your vehicle is unable to go ahead as the car will need to be tested on the road. Ensure that your MOT is valid before booking your service and driving the vehicle to the garage.
If you are seeking additional advice about an MOT or service, or if you wish to get your vehicle booked in with us, get in touch with our Bromley Vehicle Test Centre team by calling 020 8460 6666.