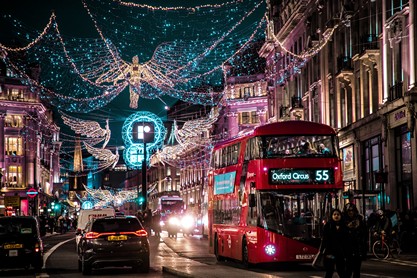 10 ways to keep alert on your Christmas road trip
For many, it would be fair to say that Christmas in 2020 was a let down, with households up and down the country instructed to stay safe and stay at home. However, with things on the up in 2021, it seems as though families will be able to gather together over the festive period once more. It's something we never thought we'd miss but bring on the Christmas road trips!
As longer car journeys may be something we're now a little out of practice for, it is important to remember to stay alert and vigilant at all times behind the wheel. While the thought of finally heading down the wide open road may seem exciting, it can quickly turn into a monotonous, drawn out task which, for some drivers, can result in fatigue. There are a few main signs of lethargy which you should be able to identify, allowing you to carry out the correct actions and drive responsibly.
Your eyelids begin to feel heavy
You begin fidgeting or feeling restless
You begin daydreaming
You begin to yawn frequently
You begin to drift out of your lane
Whether you're driving home for Christmas or visiting the in-laws and extended family, even these festive road trips can become dull as time creeps on. Here are our top tips for staying alert.
Welcome in the fresh air
As a wonderful, natural factor of day-to-day life which we often take for granted, fresh air holds the ability to halt signs of lethargy. Refresh your mind with the simple act of opening your windows, filling the car with clean air and providing you with a fresh spell of oxygen.
Don't stop moving
It goes without saying, long drives don't contain much movement. Aside from the occasional flexing of your ankle joints and tapping of your fingers to those festive tunes, your body remains still, leading to restlessness. If you notice this looming, you should pull over in the nearest safe space, whether it be a lay-by or service station. Stretching your legs can promote blood flow around the body, awakening you and allowing your mind to focus.
Plan your journey
Although the children may operate at all times at this time of year, it's worth remembering that our bodies adhere to a natural body clock. Travelling outside of hours where we are usually awake can lead to dangerous, drowsy driving. Taking the time to get a full night's sleep before the day of travel can help your mind and body fight the effects of fatigue, keeping you alert and ready to kickstart the festivities.
Name that festive tune!
It wouldn't be a Christmas road trip without a festive game, would it? Putting a merry spin on the much-loved 'Name That Tune' can provide fun for all the family. However, for safety purposes, it is important to remember that as the designated driver you must stay attentive and not become distracted. If you feel the game taking over, you should withdraw yourself as a contestant and focus on the road.
At Bromley Vehicle Test Centre, we want you to have a safe and happy Christmas. Before you head off on your journey, we would recommend booking your vehicle in for a safety check. Our team are on hand to provide their expertise in certifying the safety of your car and can repair or replace anything which could cause potential harm to yourself or other road users. To get booked in with us, give us a call on 020 8460 6666.