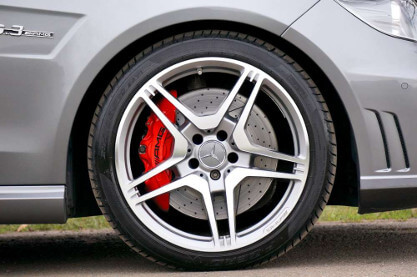 Far from being a mythical test that demands the knowledge of an experienced mechanic, there are a few simple steps that you can take for the best possible chance of your car passing first time, and with flying colours. Here's a ten-point check that can be done and dusted in ten minutes.
The Ten-Minute MOT check
1. Headlights and indicators
30% of all MOT failures are down to lights or indicators (GOV.UK) so it makes sense to start your MOT check here. Begin by checking your headlamps, rear lights, hazard lights, and indicators.
2. Brake lights
Ideally you should ask someone to help check that your brake lights are operating as they should when you press the brake; however, if there's no one around you can reverse back up to a white or reflective wall which will allow you to check them yourself.
3. Number plate
Your number plate must be completely clear and visible for a pass – give it the once over with a wet rag to ensure it's clean. Your number plate must also adhere to the font and layout rules as specified by law (you can read the full rules for your number plate on the Gov.uk website).
4. Tyres
Your tyres must have at least 1.6mm of tread for them to be road legal (you can check this by using a 20p coin – just insert the coin into the tread and double check that the coin's outer band isn't visible). It's worth noting, however, that the recommended level of tread for optimal safety is 3mm.
5. Seats and seatbelts
The driver's seat should be adjustable – both forward and back, and in relation to the degree to which the back support is set. Inspect each seatbelt for signs of damage (you'll need to pull the belts out all the way to do this). You should also pull down quickly on each seatbelt to ensure that they're reacting as they should.
6. Windscreen
Visually inspect your windscreen for cracks or chips; should you discover any that are larger than 40mm, your car will fail. Where there's a chip, the solution is quick, simple, and usually covered under your car insurance policy. A crack, on the other hand, may require a brand-new windscreen.
7. Windscreen wipers
Pop your wipers on for a moment to check they're operating and clearing the windscreen as they should. You also need to physically inspect them for any tears or damage – either of which would result in a failure.
8. Screen wash
You may be surprised to learn that in a recent annual study, 4,600 cars failed their MOT for simply not having any screen wash (What Car), so be sure to check this and top it up if necessary before you book your MOT.
9. Horn
Check your horn by pressing down for a moment or two – this should sound immediately. If it doesn't you'll need to book in for a repair or replacement.
10. Engine oil
Finally, you should check that your engine oil is filled to the correct level.
Feeling confident about passing your next MOT? When the time arrives, book your MOT test at Bromley Vehicle Test Centre, Bromley, Kent – call our team on 020 8460 6666, or email us at: .