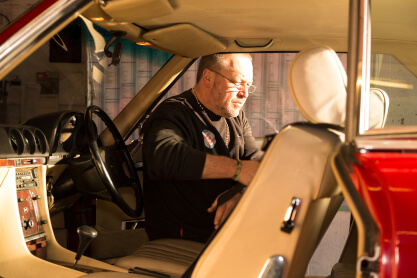 How to know if your mechanic is taking you for a ride
When it comes to caring for your car, we can guarantee that you will only want the best. Sadly, there may be mechanics out there who will test their opportunity to take you for a ride and may often succeed. This month, we talk about the importance of trust between you and your mechanic, ensuring that you can identify a handful of warning signs which will allow you to walk away from any garages which aren't providing a reliable or trusted service.
Be aware of emotional blackmail
It might seem like a strong pointer to start with, but emotional blackmail if definitely a red flag that you should keep an eye out for. Mechanics will target this tactic towards those who appear softer or more vulnerable, or those who are parents, carers, or guardians. Comments to look out for may be those which appear too personal or unprofessional, such as "I could never drive my family around in a car in this condition!". If comments such as these lead to worry or panic, we would recommend taking your vehicle to another garage for a second opinion, but don't mention the fault! Instead, see if they can identify it. If not, it is highly likely that the first garage was trying to take you for a ride.
Don't allow continuous or unnecessary fixes
This tactic could be harder to identify as it could come across as an act of reliability, but it is in fact one which you should remain aware of. Whether it happens during an MOT or service, or if you have taken your vehicle in with a specific fault in mind, pay attention to the way in which your mechanic deals with any issues. A trusted mechanic will talk to you about recommendations and possibilities before undertaking any repair work, whilst one with less reliability could see this as a money-making opportunity and get started at that moment. For example, if part X was deemed faulty and the repair work which was undertaken didn't work, they could then suggest an option B. At this point, you should walk away before you enter your vehicle into a trail of continuous and unnecessary fixes – all of which will cost you and could well be based on little more than guesswork!
Gather a selection of recommendations
There is nothing more reliable than a recommendation from a face that you can trust. Think of those that live close to you who own cars, whether that be your neighbour, parent or sibling and consider asking them about their mechanic and the level of service that they provide. Of course, the person you choose to ask doesn't have to live close to you, but it could make your day easier as it is highly likely that they use a local garage! Having a recommendation from a face that you can trust will not only provide you with confidence in the works undertaken on your vehicle, but will also allow you to relax during your appointment slot, refraining from identifying red flags and instead feeling assured about your expert mechanic.
Check the reviews
Of course, our final step is one which seems so simple yet is so vital. Reviews speak volumes and should never be overlooked. A reliable company will take pride in their reputation, ensuring that every customer that leaves their grounds has something positive to say about them. A company which operates more like a money-making scheme will often swerve away from mentioning reviews, preventing anything negative from being associated with them on their online presence. As well as the trusted Google reviews, you can also check Trustpilot and Yelp. Remember, if the bad outweigh the good, or you are struggling to find a review anywhere – choose another mechanic!
Have you got a question about the health of your vehicle? Perhaps you would like to get booked in for an MOT or service. Here at Bromley Vehicle Test Centre, we are a team of trusted mechanics that put every customer first. Get in touch for any question or query – we will be happy to help! Give us a call on 020 8460 6666 today.