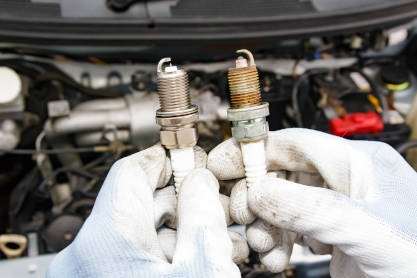 We have talked about car maintenance before and particularly why it is important for your safety and the smooth and efficient running of your car. For a reminder on the essentials of car maintenance have another read of our previous article. Car servicing is an important component of maintaining your car and keeping it in good running order. But what does a service include and how does it differ from an MOT? Let's take a look…
When to get your car serviced
The frequency with which you have your car serviced will depend on what the manufacturer stipulates is necessary for the efficient running of the vehicle, and how many miles you drive. A general rule of thumb is having a full service every 12,000 miles or every year, while an interim service should be undertaken every 6,000 miles or every 6 months or so. Your handbook will tell you exactly what is required for your car, particularly if it is new and under warrantee.
What's the difference between the interim and full service?
An interim service is a much shorter and quicker check of the basics only. It will include:
Changing the oil and oil filters
Making key safety checks to the tyres, brakes, exhaust system, lights, fluid levels and the horn
Ensuring certain key moving parts are well lubricated
Checking for fluid leaks
Resetting your service clock
A full service is a much more comprehensive check of your car and its component parts. While the specifics will be dictated by the type of vehicle you drive – for example, a petrol, diesel, hybrid or electric engine – as well as by the manufacturer's recommendations, it typically includes the following:
Changing the oil and oil filters. It will also include checking for oil leaks and replacing sump plugs if necessary
A full engine check. This will involve ensuring that:

your radiator is in good working order
all caps, hoses, and seals are intact
the timing belt is in good condition, and replacing it if damaged or due to be changed based on mileage or age
fan or alternator belt condition and tension are good
spark plugs do not need to be replaced
coolant and other fluid levels are replaced and topped up and that there are no leaks
your air filter is cleaned and replaced if necessary

Your engine will also be tuned to make sure that it is in peak condition so that your car is working efficiently.
Your tyres have good tread and your wheels are aligned and balanced
Suspension and steering are in good order and not worn out
Your brakes and all their component parts are in good condition
Your exhaust system is working properly, and you are not emitting any smoke
Your windscreen is intact, and that your wipers work well and are without cracks or gaps
Seatbelts are fitted and operate well
Testing that the battery has enough charge and is not corroded
For full details of what is involved in a full car service for your type of vehicle all you need to do is get in touch with our Bromley Vehicle Test Centre team. Just give us a call on 020 8460 6666 and if you're ready for your next service, we can book you in.