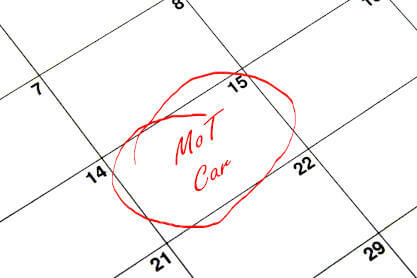 Forgetting to renew your MOT could put your car insurance at risk, plus you could be hit with a £1,000 fine.
Owning a car already involves a lot of paperwork, with road tax and insurance. It can be hard to keep track of everything and it's easy to lose track of dates.
Not sure when your MOT expires? Don't worry, we're here to help.
What is an MOT?
In the UK, every vehicle more than three years old is required by law to undergo an annual MOT (Ministry of Transport) test to prove it's fit for the road. With this measure, the government aims to ensure that all cars on UK roads are safe and don't pose any danger to the public.
An MOT test will check various components of your car to ensure they are all in proper working condition. The key components to be checked include steering, suspension, lights, tyres, brakes, fuel system, emissions, windscreen, horn and seat belts. The MOT will not check the condition of the engine, clutch or gearbox.
How can I find out when my MOT is due?
If you've forgotten your MOT due date, don't worry because it's very easy to check.
The Driver Vehicle Standards Agency offers a free reminder service to ensure you never miss your MOT again.
The AA also offer their own service called Automyze to check your due date. It also gives you a handy list of nearby MOT garages.
There's also a handy app called Vehicle Smart for all you smartphone users, available on iOS and Android. The app provides MOT and tax data for all UK cars, motorbikes, vans and HGVs. You can save details of your own vehicles for fast and simple management.
Your MOT can be done up to a month, minus a day, before it's due date. You'll still keep the same due date for next year.
If your car is brand new, you don't have to get an MOT until it's been registered for three years.
What happens if I miss my MOT?
If you miss your MOT, you must stop driving your car immediately. Driving without a valid MOT is dangerous, and it can land you with a £1,000 fine if you're caught.
The only time you're allowed to drive with an expired MOT is if you're on your way to the test centre for a pre-booked appointment. Even in this case, if your car is found to be unroadworthy you are still breaking the law by driving an unsafe vehicle on the road and you could be prosecuted.
As well as being illegal to drive without an MOT certificate, not having a valid MOT certificate can also invalidate your insurance.
How long is my MOT certificate valid for?
Your MOT certificate will be valid for twelve months from the day you took the test.
If it isn't your vehicle's first MOT your certificate will be valid for twelve months from the previous date of expiry, providing the test is carried out less than one month before the expiry date.
If you have a question about renewing your MOT, all you need to do is get in touch with our Bromley Vehicle Test Centre team. Just give us a call on 020 8460 6666 and if you're due for your next MOT test, we can book you in