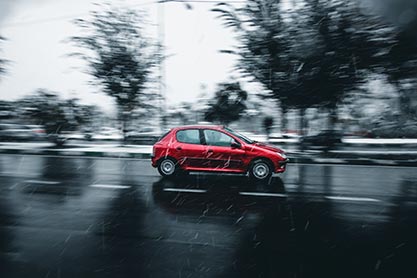 Winter tyres: Are they worth it? [A guide]
Driving in the winter weather is often enough to daunt people into keeping their vehicles off of the roads entirely until the bad weather passes, but there are factors which can protect us and other road users throughout this season, one of them being winter tyres. But what exactly is the purpose of winter tyres and are they worth it? Let us walk you through five of the most commonly asked questions, allowing you to decide for yourself if they would be worth it for your vehicle this winter.
What are winter tyres?
A common misconception about winter tyres is that they are built for the snow and icy road conditions. This is not entirely true, as they are not embedded with mental studs for grip. Winter tyres are instead simply tyres, for all the winter weather may bring!
They are designed to withstand lower temperatures and slippery road conditions, with additional levels of grip, allowing them to drive as they would in the summer, but on roads that may hold rising levels of precipitation or ice.
How do winter tyres work?
Winter tyres are constructed with multiple grooves, allowing them to move through water and compacted snow and grip onto slippery roads. These tyres are also designed to vibrate as they circulate, ensuring that any grit, snow, ice or debris that gets caught in between the grooves is removed, producing a reliable tyre for those difficult road conditions.
Can you use winter tyres all year round?
There is no law against utilising winter tyres through the summer, but we would certainly heavily advise against it. This is because excessive use throughout the warmer months of the year could wear the tyre down, preventing the treads and grooves to work as they should through the winter. Instead, throughout summer, they should be stored in a cool and dry location, stacked on top of one another, away from direct sunlight and heat, to ensure that the rubber has no chance of degrading.
The tyres should be fitted once the temperate remains consistently below 7 degrees Celsius. If the weather suddenly changes – as it likes to do in the UK – and rises above this mark, we highly recommend that you remove them and replace them with your original tyres until the temperature decreases once again.
How long do winter tyres last?
If you use winter tyres for only their given purpose, (i.e. only though the winter when the temperature reaches anything under 7 degrees Celsius), then you can be confident that you will gain the same amount of use out of them as you would typically get with your summer tyres due to their durability.
Are winter tyres a legal requirement?
Currently, winter tyres are only a legal requirement in Germany, with many other European countries, such as Italy and Switzerland, requiring the use of snow chains or studs each winter. Within the UK however, winter tyres, nor the add-ons are a legal requirement.
If you have any queries about the use of winter tyres, or would like any additional information on the practicalities and costings for your vehicle specifically, get in touch with a member of our Bromley Vehicle Test Centre team who will be able to efficiently advise you. Give us a call on 020 8460 6666 today.