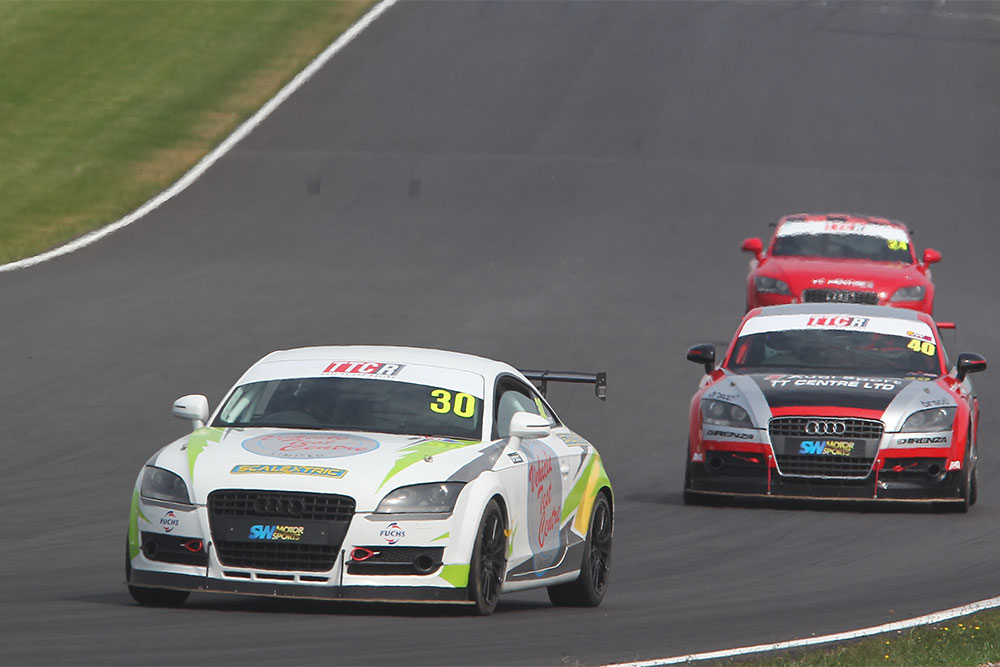 September 2023 update
It has been an incredibly busy summer of race action for the team at Sparrowhawk Racing.
Since our previous round at Snetterton, we have competed in the Audi TTCR Series at both Donington Park & Cadwell Park.  The team also entered a bonus extra race weekend in Thunder Saloons class at the epic SUPER TOURING POWER event at Brands Hatch (separate race-update coming soon).  What's more, the team have also been to Goodwood Motor Circuit not once, but twice, managing to bring home a trophy.  And on top of that, there have also been several test sessions on track too, across both Brands Hatch & Snetterton.  A very busy summer indeed!
In addition to all of the on-track action there has been a constant stream of development also happening to the racecar off-track.  Over the summer several further upgrades have been made to the team's Bromley Vehicle Test Centre Ltd sponsored Audi TT race car.  In line with the series regulations, the car has received a new EBC 'big brake kit' with new larger 4-piston calipers and 2-piece floating discs.  Furthermore, the engine has been upgraded with a PCV valve delete kit, an additional oil catch can, and the all-important upgraded intercooler to ensure the turbo is running as efficiently as possible.  The car has performed well with all of its new components, delivering the team solid Top-10 finishes in all races across the season.
In July the TTCR headed to Donington Park, in what turned out to be an incredibly exciting race weekend.  Some other teams sadly came away from Donington with significant accident damage after a couple of very high-speed crashes.  Luckily Sparrowhawk Racing came through those incidents with nothing more than a smashed windscreen, caused by flying gravel as cars scattered to avoid the collisions.  The highlight of the Donington Park race weekend was a fantastic duel with our friend and ex-British Superbikes racer Ant Park, as we battled with him right to the finish line in Race 2.  With a huge entry of over 20 cars, the team were pleased to finish inside the Top10 in class for both races.
In August TTCR headed to Cadwell Park, known as the UK's 'Green Hell'.  Cadwell is likened by many to the famous Nürburgring in Germany, due to its many tight twists & turns and huge changes in elevation as it disappears into the trees of the Lincolnshire countryside.  The team soon found their rhythm, with Rich posting his best ever lap-time at Cadwell during Qualifying.  An unlucky start-line incident put Rich almost to the back of the field after the car in front stalled on the grid, almost causing a major pile-up as all the other cars narrowly avoided it.  Rich managed to battle back into a decent position, finishing 7th in class in Race 1, and then rounding off the weekend with a 6th in class in Race 2.  An improvement on the results from Donington the month before, but still short of silverware!
With the next race meeting fast approaching, the team are now preparing their second racecar, a red Ford Fiesta ST, for a big quadruple-header weekend of racing at their local circuit Brands Hatch.  The Fiesta will be racing in TWO different race series across the weekend, taking part in the CMMC TinTops (where Sparrowhawk Racing raced back in 2021), and also racing in the Modified Fords Series (where the team won the Class B Championship last season in 2022).  It will be great to be back racing among friends, and we'll be on the hunt for some more trophies!