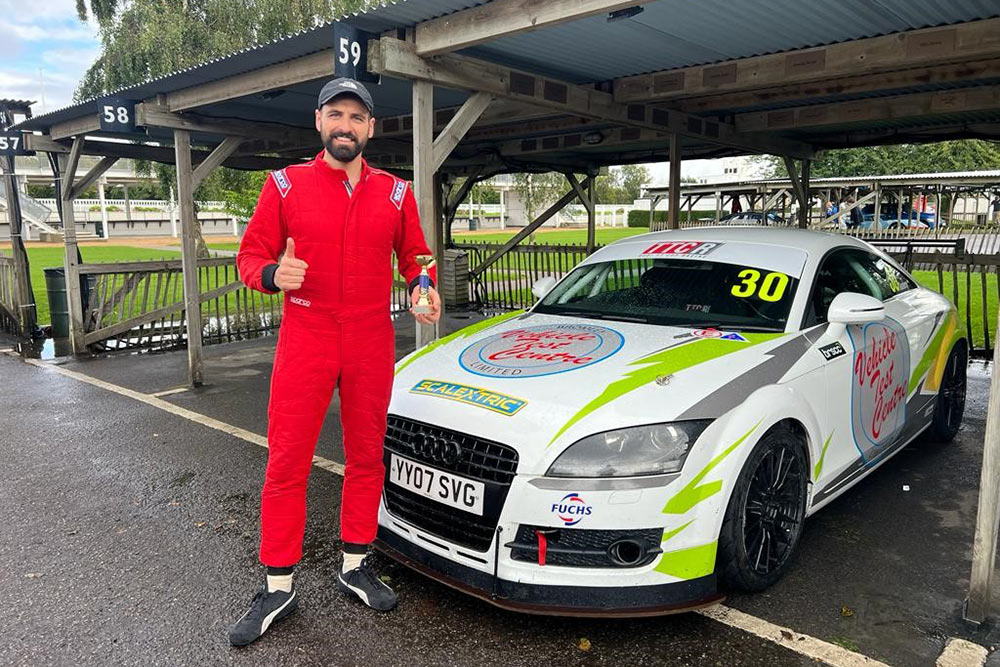 Trophy hunting at Goodwood!
It was a very wet & stormy weekend at Goodwood Motor Circuit for the annual Eagle Sprint in August.
The competition was fierce, with a field of 100 cars & drivers braving the treacherous conditions.
Sparrowhawk Racing were taking part in their first competitive event on the famous historic circuit, competing for honours in Class 3, against 20 other cars – driving their Audi TT Cup Car sponsored by Bromley Vehicle Test Centre Ltd.
During the test session the rain was torrential, and the circuit was covered in standing water – leading to multiple drivers spinning, including our car which found the grass at Lavant Corner and narrowly avoided catastrophe!
But despite the weather, lap times were impressive and midway through the day Sparrowhawk Racing sat 4th in class, battling with a duo of Fiesta ST racing cars and a well-prepared Opel VX220.
By mid-afternoon we had improved our lap-times considerably but the endless rain eventually called a halt to proceedings, the track being declared unsafe to continue. With the fastest overall time set by a Nissan GTR.
Sparrowhawk Racing were sitting in a podium spot and took the 3rd place trophy. With just half a second separating the top 3 cars they could well have won. It was fantastic close racing.
Despite the horrendous weather it was a superb event, and another important step in our team's dream of racing at the Goodwood Revival one day.
More action expected at Goodwood Motor Circuit in the coming months. Next stop… Cadwell Park for the next round of Audi TT Cup Racing!
Sparrowhawk Racing would like to say thank you to their lead sponsors Bromley Vehicle Test Centre Ltd – the team are thrilled to be bringing you home a trophy from the historic Goodwood Motor Circuit – lets hope this is the first of many trophies won there together.